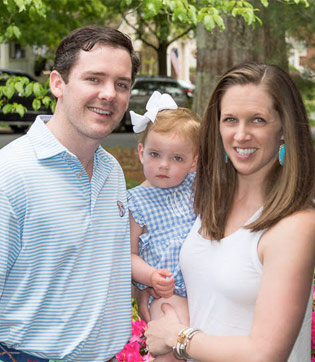 Will and Meredith met and started dating as students at Davidson College and were married after she returned to Charlotte following law school at The University of Texas. They have a two year old daughter, Ashby Lee, and a lovable pound puppy named Peyton Manning. Will works in commercial real estate with Lennar Multifamily Communities, and Meredith is an attorney in the banking and finance group at Moore & Van Allen.
They originally heard about SVP through Meredith's parents, Robert and Debbie Taylor, and have enjoyed attending SEED20 with them over the last few years and learning about SVP's mission. When they decided they were ready for more involvement in their community, SVP was an organization that came to mind as a great way to engage with a group of like-minded people and learn more about a wide range of organizations making a difference in Charlotte.
They are excited to get to know everyone and find their place in SVP!