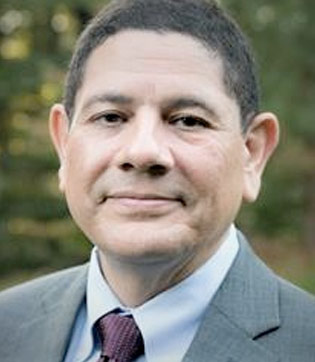 Rick Ramirez grew up in New York City ("in the Heights") and met his wife Georgina Sanz when they both worked as Chemists early in their careers. Georgina grew up in NYC after immigrating from Cuba in the late 1960s. Both received their undergraduate degrees from the City University system and later earned Master's degrees.
Rick worked internationally and across the U.S. in diverse and broad set of roles across 40+ years in multinational organizations with a primary focus in leading successful initiatives encompassing Corporate Sustainability, Environmental, Health & Safety Management and Organizational Development. Georgina worked in R&D and Marketing for 20 years until Rick's ex-patriate assignment in Mexico.
With his last "corporate" role at Swiss-based ABB with responsibility across the Americas Region, Rick and Georgina are now settled in Weddington for their second time living in the Charlotte Metro area where they have their two adult married children and four grandchildren.
Rick is exploring establishing a part time consulting practice in supporting clients with his expertise. He will be dedicating more time to the family and interests in travel, cooking and golf while continuing his commitment to service of community.
"Social Venture Partners of Charlotte offers a wonderful opportunity to work with people who are passionate about investing and supporting local non-profits in addressing social needs and improving economic equity. In my short time at SVP, working with the SPARK teams has allowed me to make an immediate contribution to a non-profit organization with my skills from corporate life."