In 2015, SVP has welcomed a record new number of Partners — and we're not even halfway through the year! Our membership is its largest to date, with 129 Partners working shoulder to shoulder to bring SVP into its 10th year in Charlotte. Please join us in welcoming each of these unique individuals who've chosen our tried-and-true model of venture philanthropy as their way to support and invest into their city and community.
Betsy and Mike Blair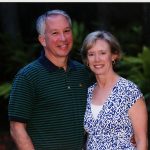 Betsy has worked as a Certified Professional Organizer with Simplicity Organizers since 2009. She has been an active volunteer at church and school for the past thirty years and currently enjoys being "Bebe" to her grandson Thomas as often as possible. Betsy graduated from Salem College and has been in Charlotte since 1960. She and Mike have been married for 33 years and enjoys two grown children and one grandson living in Charlotte.
Mike is a Senior Financial Advisor and Partner at CAPTRUST Financial Advisors. He has assisted families in multi-generation financial management for more than 30 years. He holds Bachelor and Master's Degrees in Business Administration from UNC-Chapel Hill.
An eighth-generation Charlotte native, Mike has served as Board Chairman of Hospice and Palliative Care-Charlotte and Leadership Charlotte as well as served on the boards of the Mint Museums, Child Care Resources, The Fletcher School, United Way of Central Carolinas, Heineman Medical Research Foundation, American Cancer Society and others. He was in the inaugural class of American Leadership Fellows-Charlotte and Class 6 of Leadership Charlotte, and received the Scheley Lyons Award from Leadership Charlotte in 2006.
Nancy and Bruce Downing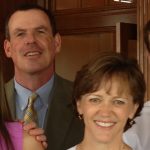 Nancy and Bruce are pleased to join SVP and look forward to learning more about philanthropic needs in their community. Bruce is originally from Gloucester, MA but spent most of his childhood in Cleveland, OH.  He is currently the President and owner of YTM Construction, a general contracting and commercial development firm in Charlotte.  Nancy grew up in Winston Salem, NC and currently serves on the Board of Trustees at Providence Day School and Thompson Child and Family Focus.  Bruce and Nancy have raised four children, with two in college and the youngest two still in high school.  Their philanthropic interests lie primarily in the welfare and education of children.
Meredith Jolly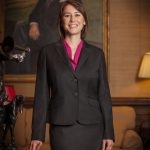 Meredith Jolly is a Vice President with Salem Investment Partners, an SBIC fund investing in middle market companies.  She originates, executes and monitors debt and equity investments in Southeastern businesses across a wide range of industries.
Originally from a small town in North Carolina, Meredith graduated from Wake Forest University and has lived in Charlotte since 2005.  She is also a member of Women's Impact Fund, where she is actively involved in the arts and culture grants committee.
In addition to her volunteer work, Meredith is an avid reader, enjoys cycling and teaches the occasional spin class at the YWCA.  She joined SVP after seeing the impact of collective giving organizations firsthand through the Women's Impact Fund.  Further, she seeks to "share my time and experience with some of Charlotte's most innovative nonprofits, and engage with like-minded philanthropists in our community."
Liz and Kevin Moran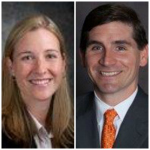 Kevin has been a financial advisor at UBS since 1998. A graduate of the University of Virginia, Kevin serves on the Board of Directors for Hinds' Feet Farm. In his spare time, he enjoys running, traveling and spending time with his wife, Elizabeth, and daughters, Molly (5) and Catherine (2).
Elizabeth is an obstetrician/gynecologist at Eastover ObGyn. She was born and raised in Charlotte and graduated from Charlotte Country Day, Duke University, and Wake Forest School of Medicine. In her free time, Liz serves as secretary of the Mecklenburg County Medical Society and enjoys running, barre class, and a good glass of wine with friends.
Stephanie and Scott Leo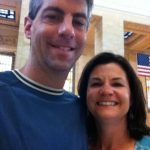 Stephanie and Scott are excited to become involved in SVP. Scott is a partner at Parker Poe Adams & Bernstein focusing his practice on public finance, which includes the issuance of bonds for state and local governments, universities, colleges and nonprofits to finance large capital projects. He is a graduate of NC State University and has his Master of Public Administration and law degree from The University of North Carolina at Chapel Hill.  His current extracurricular activities include volunteering for the Park Scholarship program at NC State and serving on the Board of the Barclay Downs Swim & Racquet Club. Scott enjoys running, tennis, reading and talking about current events.
Stephanie is a graduate of Davidson College and worked with Bank of America as a commercial lender for several years both in Charlotte and in Chapel Hill. After a return to Charlotte, she found her favorite work for BOA in designing, developing, and facilitating credit and process training.  She currently stays home to raise their three girls and has been heavily involved in capital campaigns and parent leadership at the girls' schools. Stephanie enjoys tennis, walking, hiking, and reading.
PerMar and Jon Olin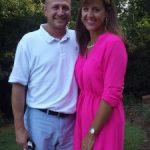 PerMar and Jon, both Davidson College graduates, live in Charlotte with their 3 children – Baker (13), Hayes (11) and Virginia (9).  Jon is a Managing Partner with ettain group, Inc. and an active member on the Davidson Athletic Foundation board.  PerMar is a medical library consultant with several local healthcare providers and also serves on multiple committees at Christ Church, Children's Theatre of Charlotte, Providence Day School, Charlotte Christian School and Sharon Elementary. The couple enjoys traveling and attending their children's various sporting events.
Anne and Steve Schmitt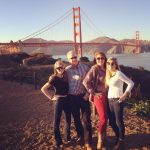 Anne and Steve are RETURNING SVP Partners! They live in Charlotte with their twin college-aged daughters.
Steve is president of Merriman Schmitt Architects, a recipient of the Association for Fundraising Professionals' Most Philanthropic Small Business award.​ Steve is originally from Delaware and went to school at Virginia Tech University.
Anne is a fifth-generation Charlottean. She attended North Carolina State State University and earned her MBA at the University of South Carolina.  She is currently studying creative writing and an MFA program.  And spent most of her career and nonprofit management and fundraising.  Steve is an avid flyfisherman.
Fun fact: one of Anne and Steve's daughters started a holiday food drive that has collected 20,000+ pounds of food for the community each years. Philanthropy runs in the family!
Cristy and Nick Travaglino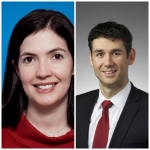 Cristy and Nick are excited to join the SVP community and to have an opportunity to meaningfully give back to their new home, Charlotte. Prior to their recent move, Cristy and Nick lived in New York City for 10 years along with their two young daughters.
Cristy has always had an interest in social enterprise. She recently joined the board of Common Wealth Charlotte, an innovative nonprofit providing financial education and secured emergency loans to low-wage earners. While living in New York, Cristy was a Vice President at Goldman Sachs in their Credit Risk Management & Advisory department. She also served on the board of a Washington Heights-based community development credit union called Neighborhood Trust FCU. During the 8 years she served on their board, she held the positions of Board Chair and Credit Committee member. Cristy also served as board member and Treasurer for a start-up nonprofit called Credit Do. Prior to working in finance, she worked as an operational efficiency consultant for Accenture. Cristy has a B.S. in Computer Information Systems from Clemson University and an M.B.A. in Social Enterprise and Finance from Columbia Business School.
Nick is a Managing Director in Fixed Income Portfolio Management at TIAA-CREF. He joined the company in 2014 and has worked in the industry for over 18 years. Nick utilized his finance skills to help Neighborhood Trust FCU by building forecasting models which were critical to the development of their strategic plan. Outside of work, Nick enjoys spending time with his family and pitching for his baseball team. Nick holds a B.S. in Commerce with a dual concentration in Finance and Marketing from the University of Virginia.