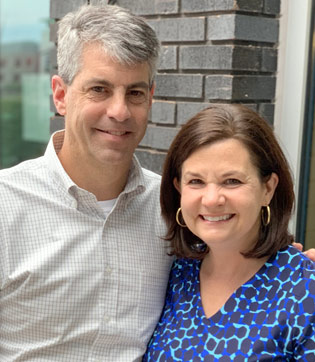 Even before joining SVP, Stephanie and Scott Leo had been involved in their community their entire adult lives. Most recently, Stephanie has been involved with PTOs (Parent-Teacher Organization) at her kids' Southpark schools. Scott has been involved in service to his alma mater, NC State, as part of the Park Scholarship program and the College of Humanities and Social Sciences. Stephanie and Scott both serve on the Board of Directors of Barclay Downs Swim and Racquet Club, located in the neighborhood they have lived in since 2002.
They joined SVP in 2015 after having been introduced to the organization by Jen Davis-Martin. Stephanie and Scott were attracted to the idea of working together and committing with other like-minded people in the Charlotte community to focus their time and money towards the venture philanthropy concept. Since joining SVP, Stephanie has been a SEED20 coach, participated on the Investment Selection Committee, and currently serves on the Board of GenOne, one of SVP's newest Investees. Scott, a public finance attorney at Parker Poe, has been a SEED20 coach for 3 years, served on the coaching subcommittee for SEED20 and has now started on the SVP Board of Directors in 2019. Stephanie and Scott have three daughters, Hannah and Kate who are freshman at UNC-Chapel Hill, and Megan who is a freshman at Myers Park High School.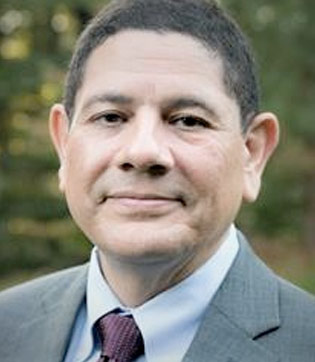 Rick Ramirez grew up in New York City ("in the Heights") and met his wife Georgina Sanz when they both worked as Chemists early in their careers. Georgina grew up in NYC after immigrating from Cuba in the late 1960s. Both received their undergraduate degrees from the City University system and later earned Master's degrees.
Rick worked internationally and across the U.S. in diverse and broad set of roles across 40+ years in multinational organizations with a primary focus in leading successful initiatives encompassing Corporate Sustainability, Environmental, Health & Safety Management and Organizational Development. Georgina worked in R&D and Marketing for 20 years until Rick's ex-patriate assignment in Mexico.
With his last "corporate" role at Swiss-based ABB with responsibility across the Americas Region, Rick and Georgina are now settled in Weddington for their second time living in the Charlotte Metro area where they have their two adult married children and four grandchildren.
Rick is exploring establishing a part time consulting practice in supporting clients with his expertise. He will be dedicating more time to the family and interests in travel, cooking and golf while continuing his commitment to service of community.
"Social Venture Partners of Charlotte offers a wonderful opportunity to work with people who are passionate about investing and supporting local non-profits in addressing social needs and improving economic equity. In my short time at SVP, working with the SPARK teams has allowed me to make an immediate contribution to a non-profit organization with my skills from corporate life."
As CEO of Clear Communication Consulting, Monique enjoys identifying ways to help leaders grow their businesses. She skillfully creates strategies to strengthen company culture through proper communication first leader-to-leader and then leader-to-team. She strongly believes that instituting healthy cultures starts and the top and when executed properly, breed happy employees who will organically render stellar customer service. Her goal is to help save money, make money and enhance the customer experience.
Monique has over 30 years in cosmetic and hospitality sales and management. She has led teams to over ½ million dollars in annual sales continually. Maintaining a standard of excellence in hospitality, leadership and community service has resulted in numerous awards including her induction in 2018 into the Women's History Hall of Fame at the Levine Museum of the New South in Charlotte, NC.
As a result of her commitment to youth and their families, Monique founded the Grooming Greatness Foundation in 2014 a nonprofit organization with two initiatives, Ladihood and Manlihood, both focused on bonding parents, guardians, mentors and their youth through the grooming process. The goal of the foundation is to groom them into well-rounded productive members of society as they educate, enrich and expose then to the endless possibilities for their future success.
Engaging with Monique results in you walking away refreshed and invigorated as a result of her positive mindset and genuine love for people.
Her favorite quote, which of course she penned, is "A rich lifestyle has nothing to do with money but everything to do with mindset".
Nancy and Harris were drawn to SVP by a desire to be more thoughtful, proactive and engaged in their philanthropic endeavors. SVP's structure provides such unique and diversified opportunities for community engagement, and the ability to serve as advisors and volunteers in addition to committing financial resources made joining SVP an easy decision for the Ralstons.
Harris is a native Charlottean and graduate of the University of Georgia. He is a Vice President with CBRE Capital Markets and has served on the board of CBRE Cares, the company's non-profit arm, since 2012. Harris is an avid outdoorsman with a passion for boating, fishing, hunting and hiking. Other interests include cheering on the Panthers and Dawgs, travelling and spending time with family and friends.
Nancy, a graduate of the University of South Carolina, moved to Charlotte in 2012 from her hometown of Atlanta. Nancy is a Major Gifts Associate at Freedom School Partners, a national non-profit focused on preventing summer learning loss for families and children who lack access to quality summer enrichment opportunities. She formerly worked in the Advancement Office at Trinity Episcopal School for 4 years and at Discovery Place, Inc. prior to that. Nancy is a member of the Association of Fundraising Professionals and enjoys riding and spending time with her horse, travelling, watching football and spending time with family and friends.
Harris and Nancy were married in March 2017 and live in Barclay Downs.
Raj moved to Charlotte in 2015 but has deep roots in the Carolinas, having spent his formative years in Greenville, SC and Greensboro, NC. He got his first exposure to Social Venture Partners when he was invited to attend an SVP event at the Bechtler in February 2019 (and now he is excited to be joining as a Partner!). Raj is currently a Practice Director at Perficient, a national information technology consulting firm. Outside of work, he stays active in the community through the Wharton Alumni Club of Charlotte, as a volunteer at the Kitten Nursery, and as a Reading Buddy in CMS's North Star Reading Program. His other interests include traveling, playing golf, and cheering on Clemson football. Raj holds a Bachelor of Science in Economics degree from the Wharton School of the University of Pennsylvania and is currently enrolled in the Executive MBA program at the University of North Carolina at Chapel Hill. He lives in Charlotte with his wife, Leigh Ann, and their cat, Sheldon.